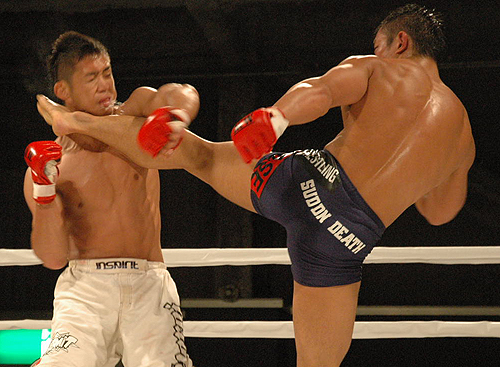 In the first meating Shooto won 2 to 1 against Pancrase but in today's encounter inside the Pancrase ring, Shooto fighters ended up unconscious as the awesome Mitsuhisa Sunabe and SRC Asia vol.1 winner Masahiro Toryu crushed their opponents.
Manabu Inoue successfully defended his Bantamweight King Of Pancrase title and said after the fight that he hurt his ribs before the fight (he had a tough time in the third round). It looks like he'll be OK for the SRC Asia Bantamweight Tournament quarterfinal at SRC15 though.
With Sunabe's victory he'll get a shot to take back the Flyweight King Of Pancrase title against the man who took it from him, Kiyotaka Shimizu.
Daisuke Hanazawa comfortably defeated Eriya in a Lightweight single fight. Hanazawa has really done good in this later part of his career going 11-4-1 in his last 16.
Source: N.O.B.